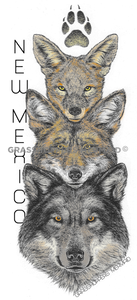 Canis Totem
Regular price
$3.99
$0.00
SKU #: M7
This sticker was created for you by one of our artists in Philippines and can be customized to represent your city, state or establishment!
TGM stickers are printed on high-quality vinyl so it will keep up with you, wherever your adventures take you.
Each sticker is finished with a durable, protective coating that keeps the sticker safe from exposure to wind, sun and rain​. ​
They will not peel or fade, even while washing your favorite reusable water bottle!
[STICKER(S) PICTURED IS/ARE EXAMPLE(S) OF NAME VARIANTS - STICKERS CAN BE CUSTOMIZED -OR- ORDERED AS IS]